industrial medical materials
A guidewire to support ERCP treatment. The nitinol core wire with excellent kink resistance can be used without deformation even in bent bile ducts. Its stripe color enhances the visibility even under an endoscope, and the color difference between the tip and the shaft part helps to know the approximate length of wire in the body.
Certification: ISO13485:2016.
All of our guide wires are OEM products that will be shipped as semi-finished products. It can be sold as an in-house brand simply by sterilizing and packing it locally. It is also possible to create similar products to the guidewire you are currently using. A small amount is also welcomed. Feel free to contact us.
Non-vascular guidewire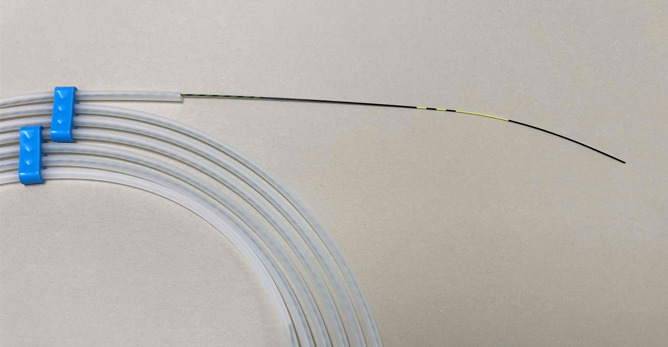 ・Nitinol shaft with excellent kink resistance is used.
・Hydrophilic coat with great lubrication durability is applied to the tip.
・A gold coil is used at the tip 5cm to enhance visibility.
【Specification】
Outer Diameter: 0.025″,0.035″
Length: 4500mm
Tip shape: Straight, Angled ※ Custom orders available.
Surface: Striped PTFE coating (Tip: Hydrophilic coat)
※All guidewires provided by our company are OEM only and will be shipped in unsterilized condition.
※Exclusively for outside Japan.
Samples are available. Please contact us.